Since we started experimenting with our potato protein in 2021, a whole new world has opened up. What we used to see as a side stream is today one of our most promising product developments with an enormous potential. The potato protein has been converted into textured potato protein, which could potentially be a valuable component in replacing meat with meat analogues in people's diets.
Even though we still have some way to go, potato protein holds great potential, and we're excited to introduce you to a few ways you can use textured potato protein.
3 typical usage scenarios
Textured potato protein has been shown to hold great potential for several applications. It might look like other textured vegetable proteins, but the meat-like structure by far excels soy, wheat, pea and all the other alternatives when it comes to meat-like mouthfeel. Here is a top-3 of particularly relevant usage scenarios.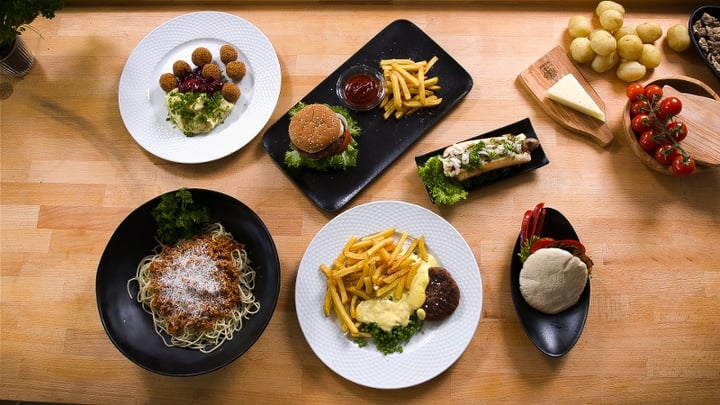 The burger patty
Everybody likes a good burger, and when you use textured potato protein you will get the ideal meat-free alternative to your cheeseburger. The protein provides a super fibrous structure that makes the patty chewy but not tough, and it contains plenty of water to give it the same juiciness as found in, for example, a regular beef patty. The taste of the patty can be adjusted to your specific taste adding flavouring agents and/or top notes like barbeque. What is more, the frying crust is 1:1 like a meat patty. That is, potato protein not only gives you the taste, but also the look and feel of a regular beef burger patty.
The meatball
Almost every country has its own version of a meatball, and unlike a burger patty the meatball usually contains several other ingredients than meat such as starch, spices, and vegetables to name a few. With the textured potato protein, we can recreate a world of meatball alternatives. Our application knowledge helps you achieve the ideal combination of fibres, starch, and crust, resulting in the perfect meatball. The colour and texture of textured potato protein make it ideal as a beef or pork alternative, not to mention that it can be adjusted in multiple ways to meet individual requirements.
The meat bites
This is a dark horse in the development of textured potato protein applications, but one we think has great potential! The so-called meat bites are a sustainable and long-lasting source of protein containing 65 % of high-quality protein. They are made of dried textured potato protein and need to be hydrated by the consumer before use. The hydrated bites can be marinated and flavoured in all possible ways, and when fried they become a crunchy, chewy, and fulfilling element in pitas and burritos as well as in salads.
Do you want to follow our development of textured potato protein? Sign up for our newsletter, where we will share our most recent results from our work with green protein ingredients:
Sign up to our newsletter here